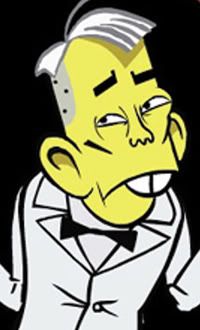 While doing research on Asia I have become smitten with a certain cartoon butler and his mad-cap antics and wacky hijinks. Long famed Internet cartoon cult favorite Mr. Wong debuted in 1999 and only lasted 14 episodes, but oh, the laughter remains. Sure, these cartoons are completely racist, filled with profanity, and utterly cringe-worthy, but they are also belly-clutchingly funny. (The show is so upfront about its offensiveness that when the cartoon is loading, the screen says "rroading.")
Mr. Wong may be the star but I would argue that "Miss Pam," his WASPy, insensitive, cocktail-swilling boss steals the show each time. Her character gets better as the episodes progress, with her relationship to Mr. Wong being at times playful and patronizing. The show's early demise leaves its theme song's question of "Is it love or is it hate?" unresolved, but one thing is for sure, Mr. Wong still sleeps on a wooden plank with bricks for a pillow.
Watch an episode
here
, and see other cartoons at
Icebox
.